Wedding Shoes 2016
There's nothing more we love than spending a couple of minutes (coughHOURScough) browsing through the most beautiful wedding shoes on the market. From pretty pairs of bow tied Kate Spades and sparkly Jimmy Choos to ultra glam Valentinos and downright decadent Charlotte Olympias, there are some shoe designers that just seem to pop up again and again at the most stylish weddings. Of course all is well until it comes to finding out the price and slowly realising that our dream wedding shoes are just that – the stuff of glittery well-heeled dreams.
Wedding Shoes 2016
But wait! we thought, isn't there a serious amount of shops on the high street selling clothes that look as good if not better than the designer garb that came before them? Surely it could be the same for shoes?!
SO, after a couple of hours of research and many cups of tea (it's a tough job, this) we compiled our pick of the best designer-influenced wedding shoes on the high street. We must admit however that our 'steals' aren't exactly cheap, but they're stunningly beautiful in their own right and  come in at less than half the price of their designer counterparts. Now you can get the designer look for less without sacrificing comfort or style!
Left: Valentino Bow Dorsay Peep Toe Glitter Heels, 
Right: Miss KG 'Gabriella' Two Tone Bow Heels from ASOS,
Left: Jimmy Choo 'Luna' Sparkle Shoes,
Right: Sparkle Peep Toe 'Vivacity' Shoes from BHLDN,
Left: CARVELA Autumn Court Shoes from Brown Thomas,
Right: ASOS PALM VIEW Wide Fit High Heels,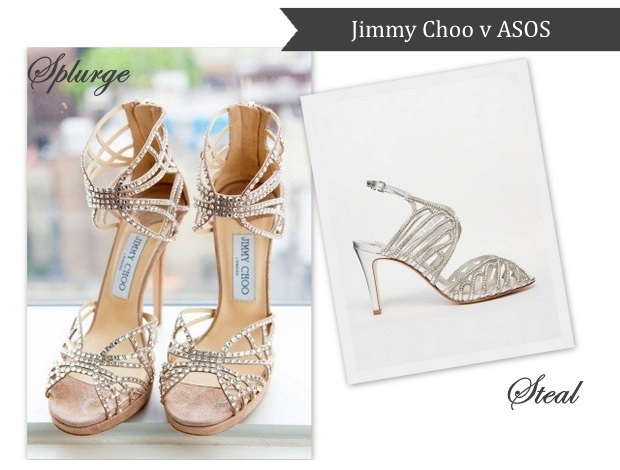 Left: Jimmy Choo Gold Fyonn Shoes,
Right: Faith Lombassy Silver Encrusted Heeled Sandals, ASOS
Left: Giana Embellished Toe Evening Shoe by Badgley Mischka,
Right: Embellished Peep Toe Stiletto Heels from Pink Paradox London at Debenhams,
Left: Metallic Leather Sabrina Pumps by Oscar de la Renta,
Right: ASOS PITCHER High Heels from ASOS,
Left: Charlotte Olympia 'Belinda' Laser Cut Heels,
Right: Gold Laser Cut Ankle Cuff Heels from Little Mistress at Debenhams,
Left: Mimosa Pale Mint Gold T-Bar Shoes from Rachel Simpson,
Right: Pink by Paradox London Ivory Satin T-bar Sandal ' Scent', Paradox at Debenhams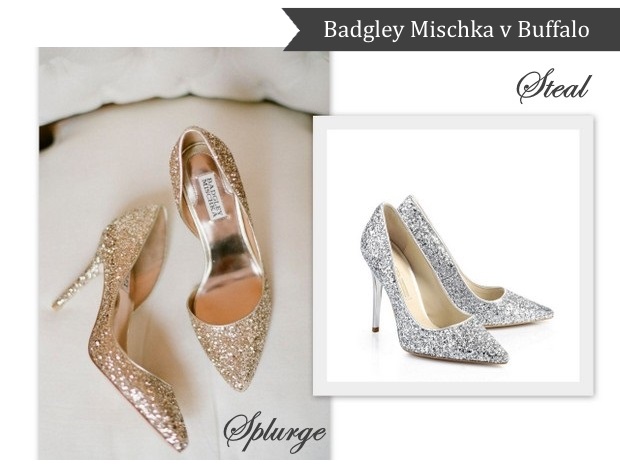 Left: Gold Glitter Court Shoe from Badgley Mischka,
Right: Silver Glitter Pump by Buffalo at Arnotts,
Left: 'Louise' Champagne Glitter Fabric Sandals by Jimmy Choo,
Right: 'Shae' Glitter Sandals from Miss KG at House of Fraser,
sources: http://www.weddingsonline.ie/