Wedding Nails Designs 2016
Whether you're a biter or indifferent when it comes to your nails, once a ring is slipped on that finger – you start to take a bit more notice of cuticles and the like! The classic French manicure (the epitome of elegance) is always a winner when it comes to wedding day nails so, if you're a fan, then stay true to yourself and wear it proudly. But if you get a buzz out of traipsing up and down the beauty aisles of Boots and love a little colour, there's nothing to say you can't embrace it on your wedding day too (once you don't overshadow the new fáinne, mind). Whether you after some sparkle, a pop of colour or simply a twist on the neutral nail, Wedding Nails Designs 2016.
Sparkles 2016
Add a touch of sparkle to your ensemble with some gorgeously glittery nails. If the thought of sporting full on glitz is too much for your talons to handle, treat your nails to a little shimmer at the cuticles in the form of a glitter polish or a sparkle stripe at the top of the nail if you want something a little more subtle!
Credits: Pink glittery nails, Weddbook | Pink nails with silver and white tips, A Polish Addict | Bronze glittery nails, Glitter and Nails | Pink nails with gold details, Obaz | Gold nails with glitter cuticles, So Nailicious | Pale pink nails with silver jewels via Pinterest
Neutral Nails 2016
If you like your French manicures but do them year round, think about giving your nails a little extra lift on your wedding day with one of these twists on the neutral nail. Use a soft pink, peach or clear base and add in touches of white in the form of florals, lace or dainty dots for instance for an oh-so-pretty take on the classic manicure.
Credits: Full floral nail design via Pinterest | Gold detail nails, via Pinterest | White lace french nails, FavNails | Polka dot nails, The Beauty Department | Feather detail nails, Tenshi No Hana | Pale pink nails with white scallop edging, Amy Photo
Pretty Pastels 2016
Give your nails a girly make-over with some pretty pastel shades. The great things about these soft shades are they add a hint of colour to the nail without drowning it. If you want to opt for more than one colour, the gradient trend is an easy way to work it, using several tones to create a bit of depth. Or a simple floral design using a pastel palette will also look gorgeous, particularly for a spring or summer affair.
Credits: Multi-coloured pastel nails with heart and gold details, Fab Fashion Fix | Floral nail design,Nailed It |Pink gradient nails, The Nailasaurus | Pastel nails with white cuticle details via Pinterest | Peach nails with silver stripe, Fashion Diva Design | Lilac nails with silver details, Glitter and Nails
Graphic Prints 2016
For the more daring brides who love experimenting with their nails, there are tons of cool graphic prints to play around with. Whether you opt for graphic lines or quirky shapes, this style of nail is all about making a statement. We love the heart shaped tips!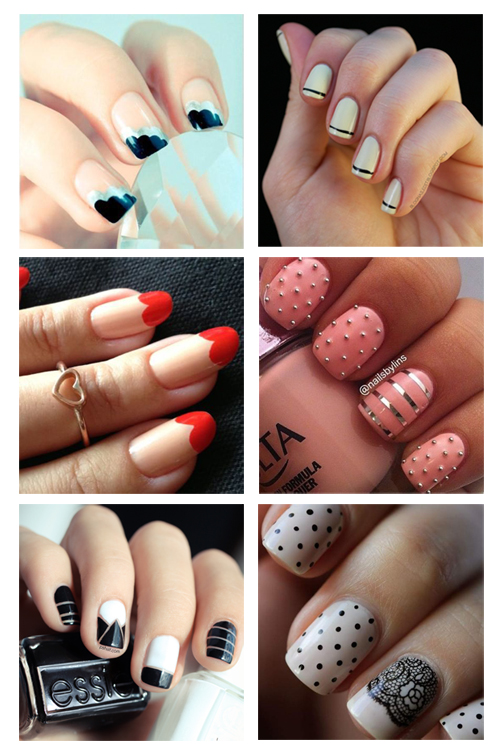 Credits: Cloud shaped nails, We Heart It | White nails with black stripe, Nailed It | Peach nails with silver details, Nails by Lins | Heart tipped nails, So Many Lovely Things | Black and white graphic print nails, Pshiiit | Polka dot and lace back and white nails, Tenshi no Hana
Darker Shades 2016
You can't beat a red nail! This vintage inspired style can look seriously cool against a gorgeous white gown. But you don't have to stop there. Darker shades can work really well in the winter months whether you opt for plumy or berry tones or embrace the darker spectrum of the colour wheel with greys, silver and charcoal black. Or if you want to just nod to this particular palette, a subtle pop of black on the tips of the nail can look effective too.
Credits: Grey nail with stripe, via Tumblr | Red nails, Caitlin's Creative Corner | Berry nails, All Lacquered Up | Charcoal grey nails via Tumblr | Black and gold tipped nails, Nailed It | Silver nails,Nail Design Zone
sources: http://www.weddingsonline.ie/